Computer Rental NTT
Feel the power of NTT computers – rent one today!
Rent NTT computers with a subscription – starting from just 1 unit!



Does an entrepreneur wishing to expand his business or simply replace his computer equipment with a modern one, have to reckon with a serious investment?

Not necessarily!

To meet the expectations of modern business, we have introduced a new form of obtaining computer equipment that can be used by entrepreneurs – computer rental, or a so called computer subscription. This form is deemed by many as an exceptionally beneficial and fastest way to obtain tools necessary for work.

Using our experience in supplying equipment for business, education, public administration, as well as for Poland's largest e-sport events, we have prepared an offer for renting NTT All-in-One office computers as well as high-performance NTT Game series tournament computers..

BENEFITS OF OUR OFFER:
reliable and optimally configured equipment, ready to work;
possibility of renting starting from 1 unit;
rental of computers for an indefinite period of time;
direct delivery and collection of computers;
flexible contract term (depending on the needs and expectations of the renter)
on-Site service guaranteeing efficient repairs in case of failure, carried out within 3 working days at the place of computer use.
Office computer rental
NTT All-in-One are offered in 21.5-inch and 23.8-inch versions.

AIO computer integrated with a monitor is an ideal office solution. Its ergonomic design reduces cable clutter, takes up little space and looks great on your desk. The computers offered in the subscription have Microsoft Windows 10 Pro and Microsoft Home & Business package already installed, so they are ready for work right away. Carefully selected, high quality components guarantee smooth and hassle-free work. Computers are available with Intel® Core™ i3 or Intel® Core™ i5 processors, giving you a wider choice of hardware performance.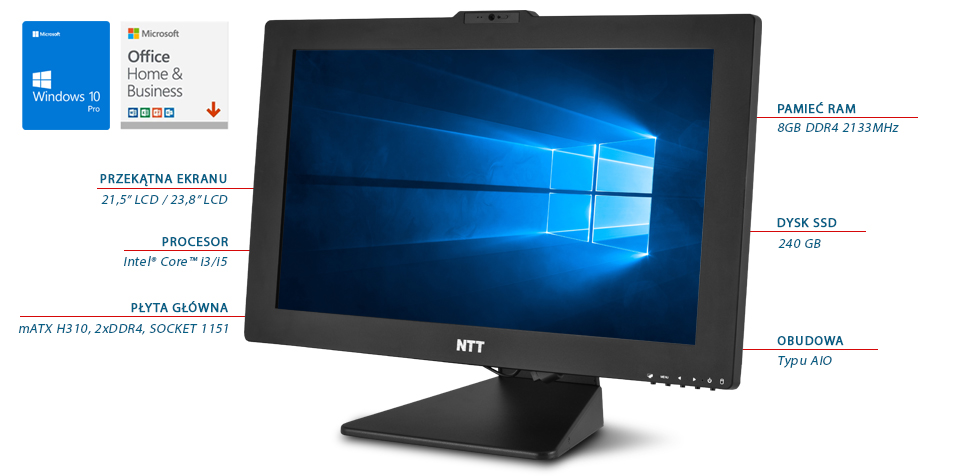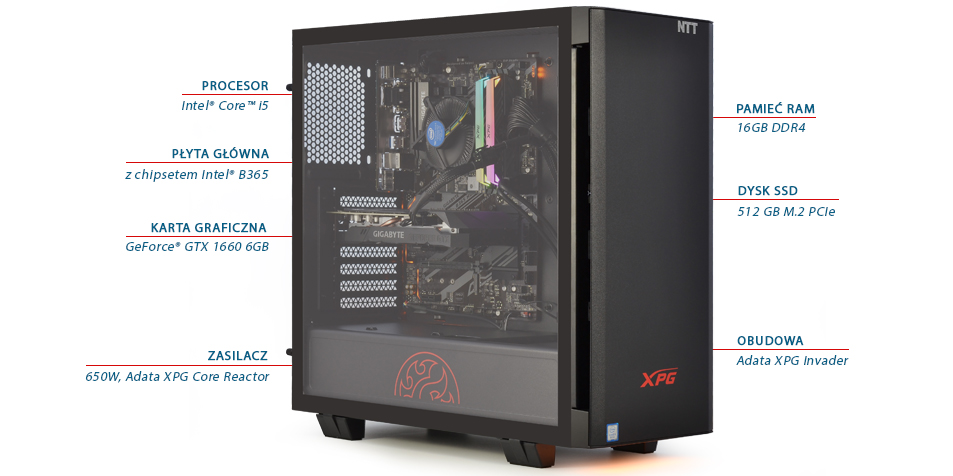 Tournament computer rental
NTT® Game hardware is a well-known brand to every e-sports enthusiast. Our gear has long been an integral part of the biggest e-sport events in Poland – such events include IEM in Katowice, or PGA in Poznan.

Optimally selected components ensure that the equipment will perform well not only during virtual tournaments but also as a work tool for demanding users. Available in the rental offer - NTT Game I5-9400F series computers have been equipped with highly efficient components, adapted to achieve the highest image quality and smoothest operation while playing video games and running apps that require high performance. The computers are equipped with Intel Core i5-9400F six-core processors that work perfectly with Nvidia GeForce GTX 1660 series graphics cards with 6GB of onboard memory.
You don't have to buy, you can rent!
For detailed offer and rental conditions, please contact us:
HOW TO RENT THE EQUIPMENT? STEP BY STEP



1.Contact us!
If you are an entrepreneur and you are interested in our offer, please fill in the form on the website www.ntt.pl/wypozyczanie-komputerow/ and attach documents which enable verification of the business entity. The order should be placed no later than 7 working days before the planned date of equipment rental.
2.We will verify the application within 3 working days
During this time, we will try to contact you, verify the accuracy of the submitted data and prepare the rental contract.
3.Signing of the agreement
If the verification is successful, we will send you the rental contract with all of its attachments for you to sign. The contract contains all detailed conditions of rental. The signed document must be delivered directly to us.
4.First payment
Upon receipt of the signed contract, we will issue an invoice for the first month's use of the equipment, increased by one-time deposit. You must pay the invoice within 3 days of its issuance.
5.Receival of equipment
After completing the above mentioned formalities, we deliver the equipment to the address indicated. You can pick up the equipment personally or appoint an authorized person to pick it up.
6. Usage
Delivered computers are fully operational and ready to work, according to their intended use. However, if the equipment fails, we provide repair services at the place of use within 3 working days or, if that is not possible, we will exchange it for another one.
7.Return of computers to NTT
At the end of the rental period, we will contact you to make arrangements to pick up your equipment.
FAQ



What is the shortest and longest available computer rental period?
- The shortest rental period for office computers is one month, while the longest rental period is not fixed. The shortest rental period for tournament computers is two days.
Who is the rental offer intended for?
- Our offer is intended for entities conducting business activity on the territory of Poland.
How many computers can I rent?
- There are no rental limits in our offer. In practice, you can rent as little as just one computer.
Are the delivered computers ready to use right away?
- The supplied computers have a standard configuration and are ready to be used as soon as they are delivered.
What happens in case of failure or technical problems with the rented computers?
- We provide the support of our Service Centre during the entire rental period and the service repairs are carried out directly at the place of use.